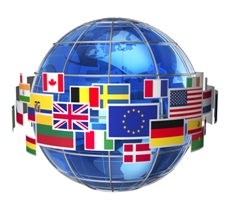 The exponential growth of the internet over the past two decades means that even the smallest business now has the world at its fingertips. There is a whole global population just waiting to be turned into customers, and all that you need is the ambition, talent and work ethic to make this dream a reality.
However, there is a knack to doing it properly. Although there are millions of potential customers out there, you need to know how to reach them, how to meet their needs, and how to deliver a premier global service. If you're not sure of where to start, here are three top tips to trade by.
1. Do Your Research
There is an art to trading successfully, and like any academic pursuit, its greatest talents share a few things in common: skill, an impressive work ethic, and ambition. There is no use simply dropping some pins into a map; you need to begin by putting in the hours and finding out where your markets are. There are lots of professional enterprises that can help you with this, but if you'd prefer to do your research yourself, then there are plenty of free online resources to help you.
2. Utilise the Internet
One of the best means of connecting with a global audience is through the internet. Almost every business will have a website, but it's important to also take advantage of social media platforms such as LinkedIn, Facebook, Twitter, Etsy, and Pinterest. Having an eBay account is also a wonderful way to encourage global transactions.
You have to do more than take advantage of these websites, however. You also need to make a real effort to ensure that they're easy for buyers or clients from other countries to navigate. This means that it's a good idea to have a professional overhaul your online presence, and perhaps integrate translation and currency conversion tools.
3. Choose a Reliable and Experienced International Courier
It's not enough to attract a global audience; you need to make sure that you can offer your international buyers a service as impressive as the one your domestic clients receive. One area where globally trading businesses often fall short on this score is deliveries. Despite the fact that you'll be shipping overseas, there is no excuse for damaged products or late deliveries. Where these occur, repeat business is unlikely, so it's very important to choose a courier service that's experienced, trustworthy, and has a reputation that you, and your customers, can count on.
Why not think about expanding your operations today?